2.

Tigase Messenger for iOS Interface

The menu interface for Tigase Messenger for iOS is broken up into three main panels; Chats, Contacts and Bookmarks.
2.1.

Contacts

The contacts panel serves as your Roster, displaying all the contacts you have on your roster, and displaying statuses along with their names. Tigase Messenger for iOS supports vCard-Temp Avatars and will retrieve them if they are uploaded by a user.

Contacts with green icons are available or free to chat status. Contacts with yellow icons are away or extended away. Contacts with red icons are in do not disturb status. Contacts with gray icons are offline or unavailable.

Note that contacts will remain gray if you decide not to allow presence notifications in the settings.

You may delete or edit contacts by tapping a contact and tapping Delete. You also have the ability to edit a contact, explained in the next section. Deleting the contact will remove them from your roster, and remove any presence sharing permissions from the contact.
2.1.1.

Adding a contact

To add a contact, you have to click on Contacts and select the +-sign at the top of the screen. Select the account friends list you wish the new contact to be added too. Then type in the JID of the user, do not use resources, just bare JID. You may enter a friendly nickname for the contact to be added to your friend list.In this tutorial my friend is selected as the name for the contact. When adding users, you have two options to select: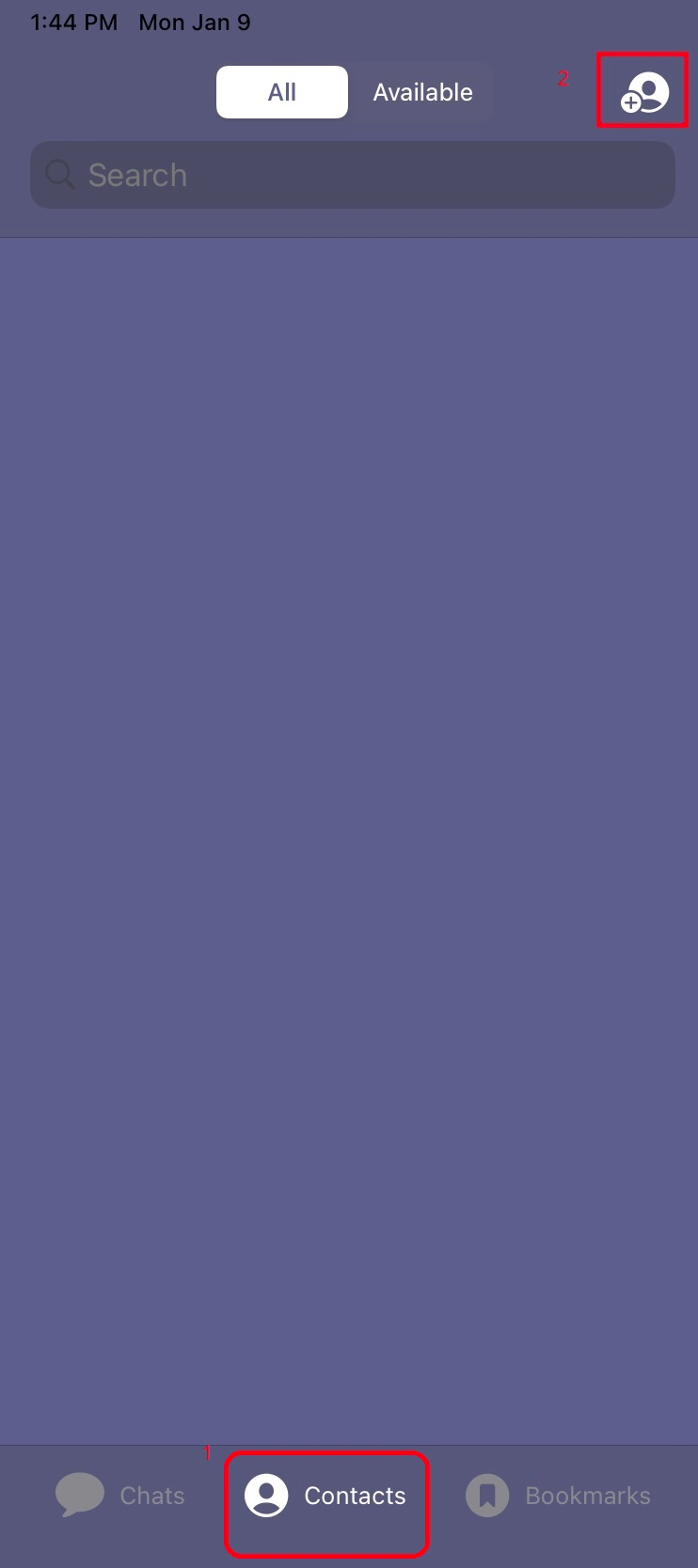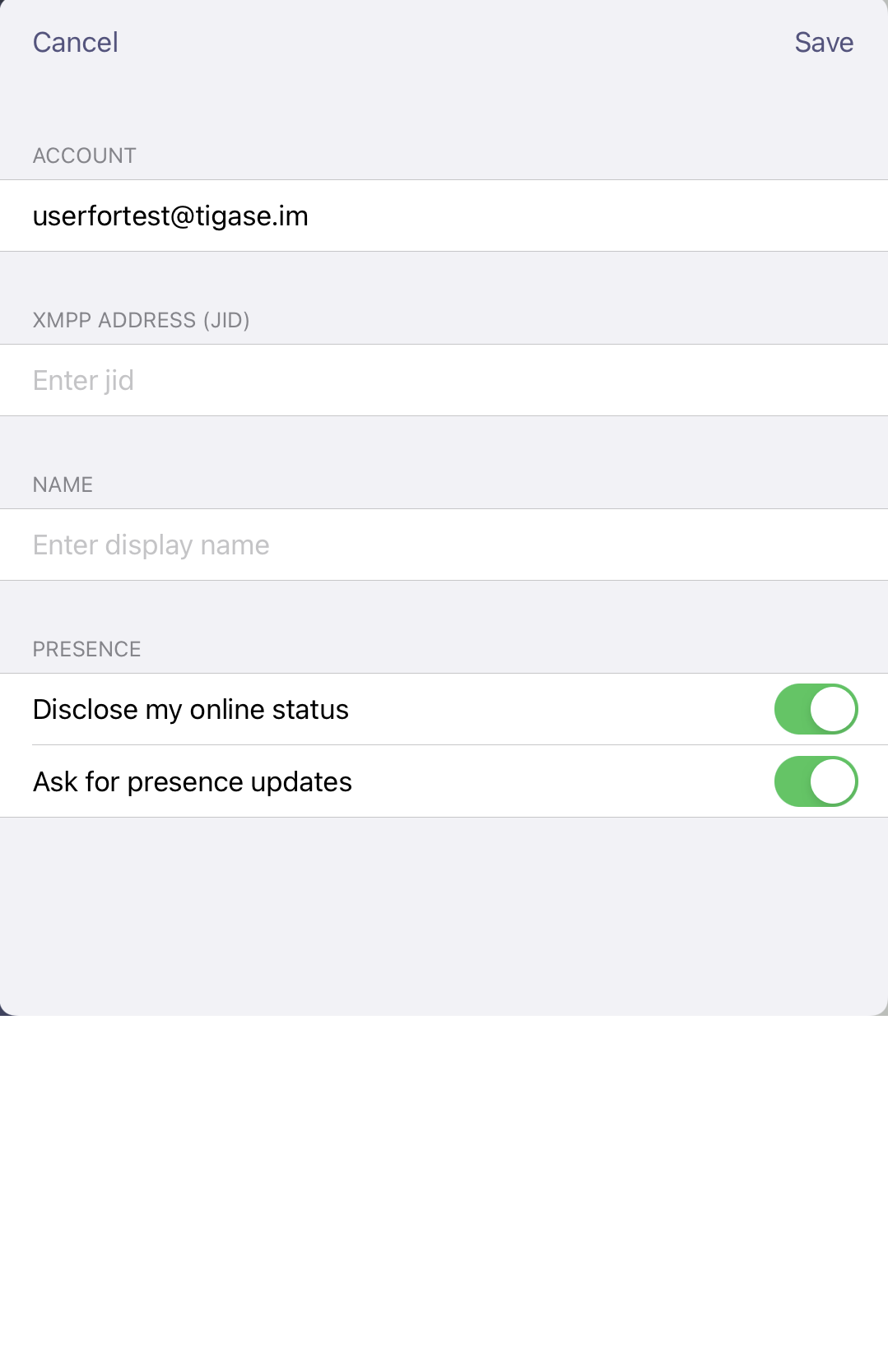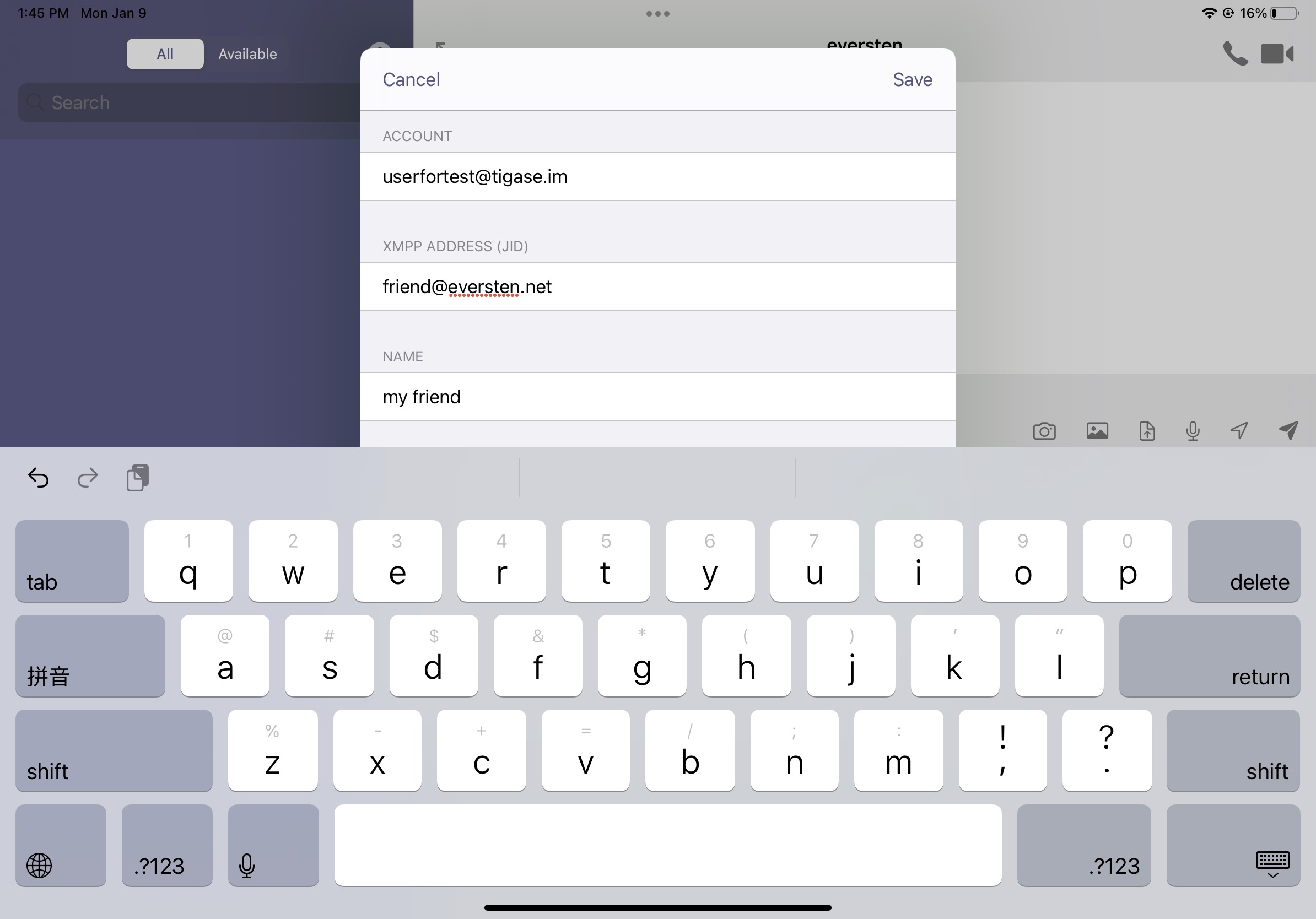 Disclose my online status - This will allow sending of presence status and changes to this user on your roster. You may disable this to reduce network usage, however you will not be able to obtain status information.

Ask for presence updates - Turning this on will enable the applications to send presence changes to this person on the roster. You may disable this to reduce network usage, however they will not receive notifications if you turn off the phone
Note
These options are on by default and enable Tigase siskin IM for iOS to behave like a traditional client.
2.1.2.

Editing a contact

When editing a contact, you may chose to change the account that has friended the user, XMPP name, edit a roster name (which will be shown on your roster). Here, you may also decide to selectively approve or deny subscription requests to and from the user. If you do not send presence updates, they will not know whether you are online, busy, or away. If you elect not to receive presence updates, you will not receive information if they are online, busy or away.

Tap the contact you want to edit, click "edit", after it is done, click "save"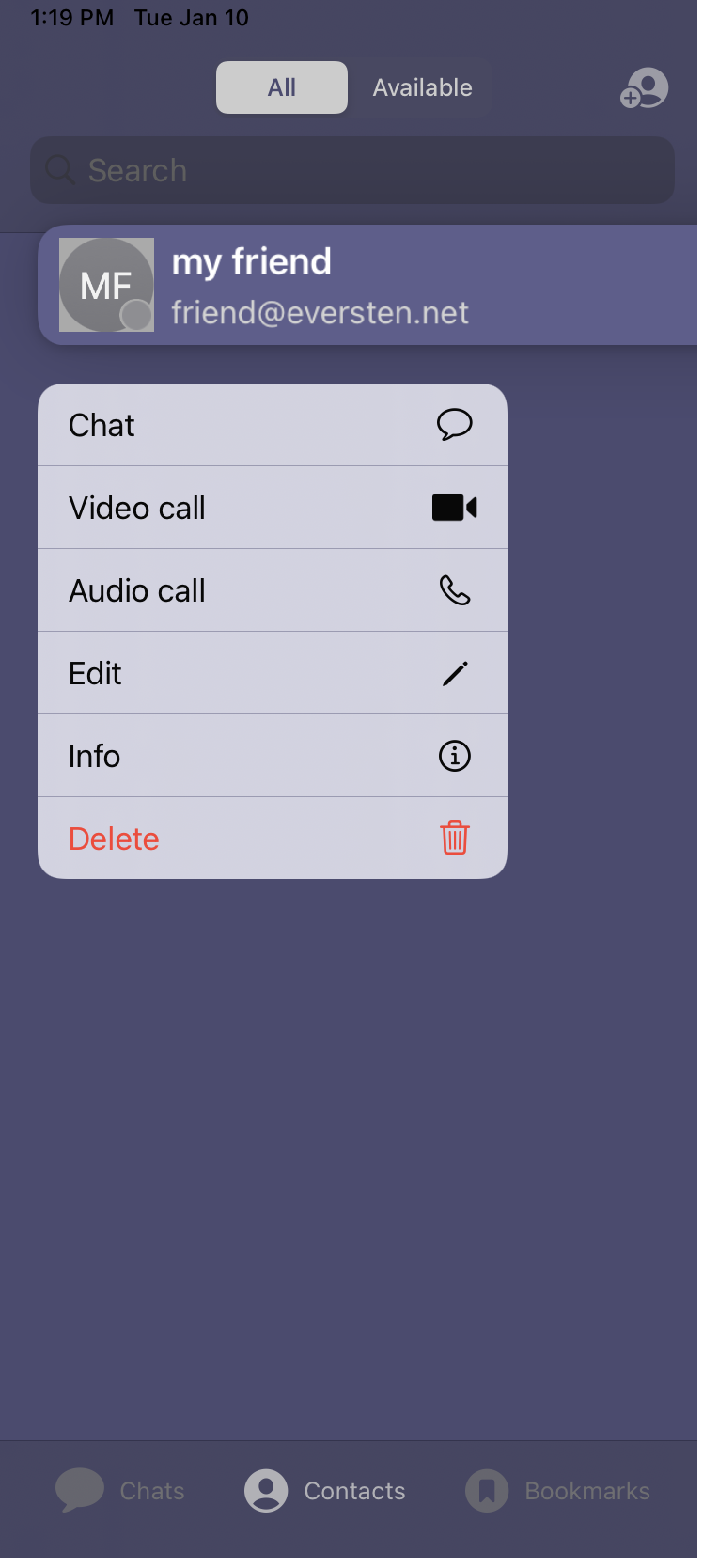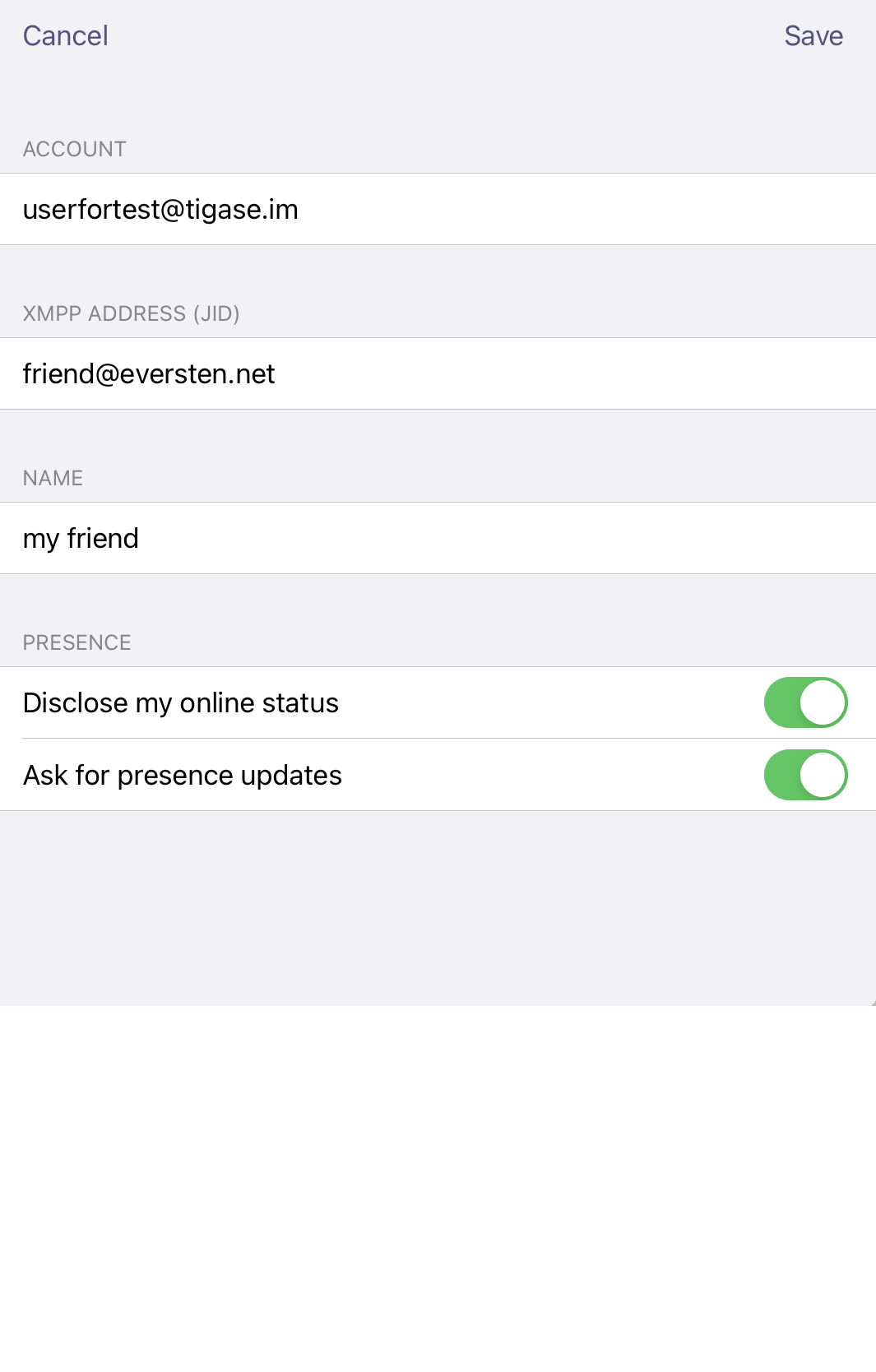 2.2.

Settings

click "Chats" on the bottom of mian panel and click the upper left, below are settings for the operation and behavior of the application.